This year I only made one New Year's Resolution; to empty my workbasket of the jobs I had thrown in there to do "some time" before the year was up.
So when I saw new member Hafsa Khalid's icon, I decided that would be my slogon for 2014!
Machine Embroidery Design from the Embroidery Library Inc
My list and progress to date
1. Replace elastic on knee pads

The other half dug these out when I complained about my old kneeling pad for gardening falling to bits. This is because every time I moved off it our Rotty would run off with it and trade it for a biscuit, but at each trade there was less of it left! These ones could be strapped to my knees, but the elastic straps needed replacing as they had been knocking around awhile.
Here they are, all done, with all new elastic straps and velcro, just in time for weeding in the Spring Sunshine! I used my Stretch needles.
2. Finish the new lining for my vintage faux leopardskin coat
all done and blogged about now!
This would come under "Pattern Drafting form Ready to Wear" I suppose. I am subscribed to Steffani Lyncecum's Course on Craftsy and have even watched some of it and borrowed her book from the library! Can't imagine how I managed all these years without my walking foot though.
3. Re-make my cushion cover - smaller and with a zipper

When I first moved in here I made a cushion for the bed, and I just slip stitched it closed because closures were scary. Over time the pillow had compressed until the cover was just too big. I decided to make it smaller, and this time fit a zipper!
Here it is done, a couple of inches smaller but plump again!
and with a long zipper along the edge!
One of the most useful resources I have for inserting zips is a little leaflet from YKK, the zipper people. Here is some of it YKK%20Zip%20Tips%201.jpg YKK%20Zip%20Tips%202.jpg

4. Make new (polyester)Satin Pyjama bottoms from my original RTW ones
I have a lovely pair of black satin pyjamas with a very pretty embroidered chiffon top. Being of an age where I get very hot in bed at night, I found them "just right" but I have worn the satin to death, and the elastic has gone. So I took the plunge and cut them up, examined how they were made, and made a pattern.
I traced it onto my Swedish(sewable)Tracing Paper(STP), pinned it together and tried it on. Much to my surprise it looked okay, so I decided to make a muslin. I wanted this to be in some polyester satin so I could test how it was to sew so I used some red pillowcases and some scraps from a green nightie I made myself. I wrote the instructions as I constructed them, then tried them on.
At this point various comments were made about them looking like a clown suit, and not being very flattering. One of the problems with this method is that they had stretched out of shape over time, so now I had to compensate for that.
I also decided to make a few tweaks to improve them over the originals and make them longer, and fuller from the knee down instead of tapering in that unflattering way.
It did seem that the back waist seemed too low, so I tried comparing it to some (unused) trouser patterns in my stash. Apparently I am deformed. After a little depression session, I went back to my STP pattern and simply cut the bottom a bit deeper to see if that would work.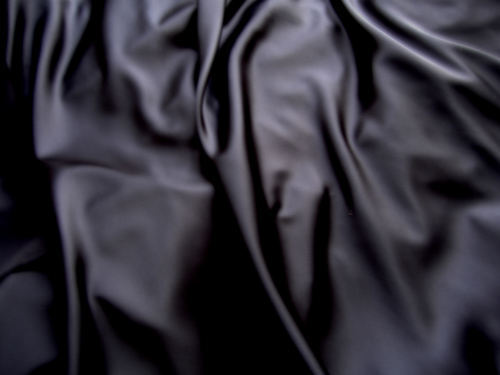 I made the other alterations I wanted, then cut out another set in more STP so I could machine baste them together complete. Lo and behold, the alterations appear to have worked! Feeling far more positive I bought this fabulous black polyester satin fabric on-line from e-bay and got to work.

I took some care over matching up all four seams, and it paid off!
I copied the RTW techniques wherever I could; for instance the finishing of the seam under the side opening.
One of the reasons I liked these pyjama bottoms is that unlike most of the patterns I came across, it has a flat front waistband, with an elasticated back and a side opening. The waistband on my clown first version came out too narrow as I had forgotten to add enough seam allowance. This one is just perfect, with some fusible interfacing, just like the RTW.
The back waistband had been formed by folding over the top of the back and enclosing the elastic, then edgestitching the top and bottom. I chose to make a separate casing and insert the elastic instead. I managed to do the edgestitching across the top, but the bottom didn't work, because of the seam allowance. Unpicking that was a nightmare, but the top edge does look good.
Here they are with the front and back casings slipstitched together. The originals had a tiny self-covered button and I am afraid I left it done up and pulled them on and off rather than fiddle with it. That probably didn't help the elastic, so my new ones have a larger self-covered button which I can will undo when I take them on and off! I added the button on the inside for strength and made a new loop (which looks as if it was quilted as I used that 3 stitch zig-zag on it).
Rather than do a machine hem I did a Blind Stitch hem
Here they are. They don't look much on a hanger do they, but I assure you they feel look and feel fabulous! No more comments about clowns now!
Lastly I re-attached the chiffon ties to the waistband over the loop. They just hang there to co-ordinate with the chiffon top. Done!
I road tested them in bed last night and I am over the moon! They are lovely, better than my old ones. The point is I could have gone shopping for a new pair but, and I quote Cherie of The Sewing Lab. ".... my time is far more abundant than my money and this was a fun little project"
That's four down, just two to go, and it's only March!
5. The Pink Net Petticoat
I have a cream tiered net petticoat, not to look good under a vintage dress I'm afraid but because it is warm and not as bulky as my old fashioned cotton ones! However, it has seen better days (and several heels caught in it when I stood up) so I decided to dig out and use this old pattern from my dressmaking days, back in the 70's.
When I first joined SWN 2 years ago I had just bought the fabric to make view A. The top tier calls for jersey and I asked the shop for whatever colour they had it in with a matching net, which turned out to be Dusky Pink. It has languished in my workbasket ever since.
This will be my next target! I am as usual browsing the net for other people's experience with this, which is where I came across Cherie at the Sewing Lab. I'm hoping the experience I've gained in the last few years and the things I learnt from the on-line sewing community will make this another "fun" project rather than a daunting one!
and lastly....
6. Make a "fun" alternative bag for my wheelie (shopping trolley) in place of the boring black nylon one it came with

I bought this when I decided to leave the truck at home and walk to the shops because of all the snow and ice. It holds a ton of shopping but it's dark inside and hard to find stuff. I would have preferred one like this...
but our local store didn't have anything that exotic! So I have bought some fabric, and thought I would have a go at making my own. Here's what I bought, because it looks fun!
Fryetts Maritime Oilcloth in Blue
Even more fun is that it is an oilcloth, or to be specific "100% cotton coated with a High Gloss PVC finish" . Just as well I have a Teflon coated "non-stick" foot now!
Well that's my list and how far I have got already. Bit of a mixed bag, but my progress so far is not bad considering we are only 3 months into the year! Now I will go back to getting my Needle Organizer Tutorial ready, and those 10 velvet patchwork costumes I have to mend.