Last year when I was learning about all the different kinds of sewing machine needles available, I came across the Wing or Hemstitch needle. Never having heard of it, I did some research and found out this is used for Heirloom embroidery. I also read that 'Machine Embroidery' means the computerised designs done by the specialist machines, but embroidery using a normal sewing machine is referred to as 'Decorative Stitching'. Who knew?
I went on to discover that my Janome DC3050 could do 25 heirloom stitches! I promptly bought a 100/16 Wing Needle and made this sampler to try all 25 out, using a piece of Robert Kaufman Essex linen I had in my stash. I really liked the subtle effect and decided I would like to make myself a linen waistcoat, decorated with these heirloom stitches.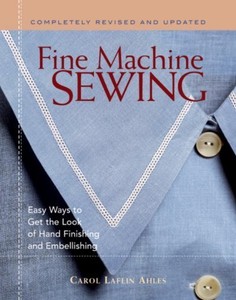 I bought myself the other size wing needle (120/19) and the twin version (2.5/100). I also treated myself to this book "Fine Machine Sewing" by Carol Laflin Ahles, which I found absorbing to read, as she gives loads of tips on how to improve all my machine sewing.
I had this vintage waistcoat pattern in my collection (from 1985) and tried a quick tissue fit. It was not as good as the RTW waistcoats in my wardrobe, being far too wide on the shoulders apart from anything else. So I traced the pattern onto some Swedish tracing paper, then used one of my RTW ones to alter the pattern and made a muslin using some striped sheeting.
Now this was a much better fit! When the other half saw this waistcoat he asked if I was joining a barber shop choir! I'm hanging on to this piece as it will be quite cute if I line it and finish it off, or maybe used it to line a denim waistcoat?
I cut out the fronts in a fairly coarse natural linen (not Robert Kaufman Essex) the backs in a chocolate brown faux suede (recycled from some curtains) and the lining is brown polyester satin left over from my Vintage Faux Leopardskin Coat lining. I assembled the fronts and starched and pressed them ready for stitching as Carol advised.
I did loads more samples, trying out both sizes of wing needle, with several different threads and stitches, trying to decide which combination I liked best. The linen I am using is rougher than the original sampler so the effects were different. I finally decided on the larger needle (120/19) and Gutermann Sew All #170
I used my Chaco chalk marker to draw the lines I wanted to follow, one inch apart. I used red at first thinking the white wouldn't show up well enough. Now I'm worried I won't be able to get rid of the chalk marks as they didn't brush off after I stitched over them. I tried the white chalk and it showed up well so I switched to that for the rest.
These are the first six rows I did (stitches 2 - 7 below) starting either side of the dart and moving outwards. Then I went back and fit a row on the dart itself, and another row in nearer the front (leaving gaps for the buttonholes) and lastly two more towards the side seam.
My manual doesn't mention 'heirloom' or name the stitches but after some researching online I found a couple, so here are the nine stitches I used, together with any details I found for them:
1) #35 Decorative/Patchwork (not yet added in picture above)
2) #41 Fagoting/Ladder (on far right above)
3) #48 Ornamental/Asterisk (In Carol's book this is called "Daisy")
4) #37 Ornamental/Heirloom Stitch
5) #36 Smocking Stitch/Garden Stitch
(In Carol's book there is one like this, but reversed, called Rhodes stitch)
6) #49 Cross Stitch
7) #38 Ornamental/Heirloom Stitch
8) #39 Ornamental/Heirloom (not yet added in picture above)
9) #43 Heirloom/Honeycomb (not yet added in picture above)
With the decorative stitching complete, it was time to finish assembling the waistcoat. I followed the instructions from the pattern. I had omitted the welt pockets as I didn't want them interrupting the line of stitches (I will get around to making them one day!)
I had stopped and started the stitching around the two buttonhole marks so I wouldn't have to cut into them. My machine does three styles of automatic buttonhole. (It uses a button in the back of the foot to measure the size. It's soooo clever.) I chose the style with round ends and went over them twice to give them a good finish. I recycled a couple of tortoiseshell buttons from my button jar and put them on by hand as there are only two.
Finished! I hand washed it to get rid of the red chalk lines! I'm not sure if I like it now, maybe it would have been better in a darker colour? It looks a bit chunky around the edges and it may have been crisper with some top-stitching but I wasn't feeling confident that would work well so I didn't try it. Time to slip it on and do some modelling!

I really like the brown faux suede and the little strap detail on the back. My RTW waistcoat has ties so it is adjustable, but doesn't look as smart. I wonder if I could make it with adjustable ties and a sliding buckle? It needs a press to get that crease out and a more rustic shirt underneath! Also the lining is rolling out on the neckline a little, it should have been under-stitched perhaps? I'll add a note on the instructions for another time.

My rustic heirloom waistcoat!