A former Blenheim woman has won a coveted business scholarship to help take her online sewing pattern company to the next level. Katie Brown started Papercut Patterns last September after noticing a gap in the market for modern versions of dressmaking patterns.
The easy-to-follow patterns are printed on recyclable brown paper and can be hung when cut out, just as you would find in a professional workroom, making customers feel like their own fashion designer. The 31-year-old won the AMP Do Your Thing scholarship in Auckland on Thursday night. "Each year they give away scholarships to help Kiwis do their thing to put New Zealand on the map," she said. "Basically they give you financial assistance and ongoing advice to help you achieve your goals."
The fashion and graphic design graduate first had her business brainwave while working for a fabric store in Auckland. "People were always coming into the store looking for modern clothing patterns for home sewing," she said. "When I started nobody in the world was doing boutique sewing patterns and I thought there was a huge gap in the market here. Now there are five similar shops but nobody else in New Zealand."
To date the majority of Katie's sales have been to the United States. Her target market is 15-year-olds to 40-year-olds, with patterns priced from $22 to $35. Her sizing is extra small to large, her large being bigger than normal, she says. Ms Brown's sizing chart is on her website. It explains how to measure yourself properly to ascertain the correct size. Winning the scholarship was going to be huge for business, she said. "It will help to push the business forward through mentoring and connecting me with the right people that can help push my brand. The exposure and publicity of the scholarship is all good." The scholarship isn't just for businesses though, she said."A scholarship also went to a 14-year-old boy who is competing at the Olympics and someone else who will be the first New Zealander accepted into the Russian ballet. "It's a pretty big scholarship programme; over 1300 people applied for a scholarship in the country and I was in the top 20. It's pretty awesome."
Patterns are available on papercutpatterns.com.
- The Marlborough Express
related: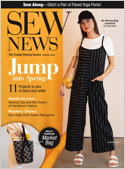 Sew News


Sew News For more than 25 years, Sew News magazine has been the trusted resource for sewers of all skill levels specializing in providing clothing and home décor sewing ideas, inspiration and techniques to our readers.