BY MARY SHUSTACK
There's a fun - and affordable - solution coming Saturday to New City.
The "Swap-O-Rama-Rama" is a clothing exchange with a twist that promises creative -and eco-friendly - results.
Trade your too-small jeans or bought-on-impulse top (with the tags still on) for someone else's cocktail dress worn only once.
If you like it, it's yours. If you like it, but it doesn't fit - there's help.
Dozens of volunteer seamstresses, fashion designers, artists and students will be on hand to help you transform your find into something you can wear.
A pair of jeans can become a skirt. A T-shirt turns into a flirty tank. Cargo pants end up as a tote bag.
The Swap-O-Rama-Rama, a national event held locally for the first time, caught the attention of Cecilia Halverson, assistant executive director of Home Aides of Rockland Inc. The event, including the $10 entry donation, will benefit the works of the not-for-profit home-care agency.
"It's the creativity, the community," Halverson says of the Swap's appeal.
But it's also the chance to become a frugal fashionista: "Just changing the buttons on something can totally change the look," Halverson says. "They could hem it. They could change the neckline." ... [
read on!
]
---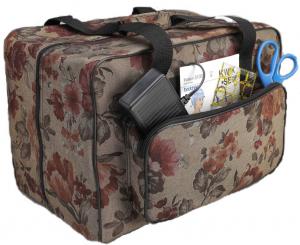 Singer Soft Zippered Tote Bag Oversized Carrying Case (Brother SA8501 & GHI) +Side Pocket for Sewing, Quilting, Embroidery, Serger, Blindhem Machines
Great for machine storage or carrying while traveling. Bag itself measures 17.5"w X 12"h X 12"d. Bag is constructed of printed twill, padded, and lined with nylon fabric. Durable nylon webbing handle-straps wrap around the bttom of the bag for added strength. Velcro closure comfort handle. Padded, zippered side-pocket for accessories. Full length zipper provides easy access. Bottom of bag has a removable hardboard base. Front side of bag features a lined & zippered 6"x14" pocket that is large enough for the foot pedal, cord, & other necessities. Bag will fold for easy storage. This is the only bag that will hold the Brother PE150/170/180/200, White 3300,Simplicity SE3 & Bernina Deco. Also Juki TL98, Brother PQ1500, Janome 6500/1600/Pfaff/Viking! It will not fit the Brother ULT/4000D models. Bag will accomodate small 4x4 embroidery machines and 9" arm portable sewing machines.