The last pattern released for the 2014 Bag of the Month Club last June was The City Slicker by ChrisWDesigns.com. There were two versions, an intermediate and an avdvanced. I liked the shape, and after dithering over which version to buy, discovered Christine offers them as a bundle so I bought them both!
I started out fully intending to make the intermediate version, but having sat and read both patterns all the way through, I decided I would like to attempt make the advanced version instead, with one minor change. The advanced pattern has a welt pocket on the back, and I wanted to add a slip pocket like the intermediate version instead.
This is because I wanted to use clear vinyl as I really need to be able to see my post and "To Do" lists when I'm out. It works really well for me on my Stow-it-All bags. I didn't add one to my Companion Carpetbag and now wish I had, as I brought my post home again last week as it was buried out of sight inside!

(I miss his beard!)
It was not because I was avoiding the welt pocket! On the contrary, I would really like to try this technique out as it was one featured in episode two of the current series of "The Great British Sewing Bee". I have never made one, but I do have a pattern for a waistcoat with them so I guess that's a future project.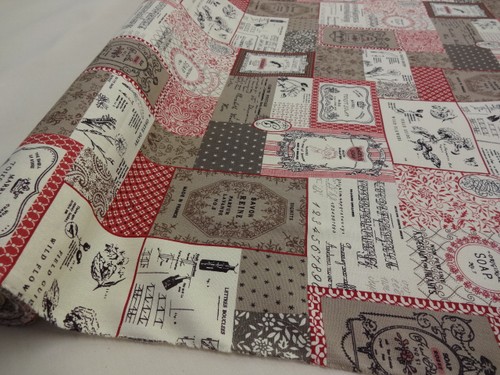 The Advanced version also uses three co-ordinating fabrics rather than two, and I chose to use this 'Vintage labels' print together with the same 'cream spot on red' cotton canvas as I did for my Christmas Stow-it-All, and added the 'cream spot on brown' version as my third fabric . I spent quite a bit of bit of time deciding which one to use where on the bag!
I also used the same red ticking stripe (by The Henley Studio for Makower UK) for the lining. Here is the inside, showing the stacked slip pockets and pleated pouch. I did attempt to match the stripes from the lining to the ones on the edges of the pockets but it's just a bit off here.
My pattern matching worked better on this side. However, I completely forgot to match the stripes on the lining itself, so they were offset along the centre bottom seam! It made my eyes go funny looking at it, so I dug out this hearts ribbon and sewed it over the seam to disguise it.
When I came to the instruction "TIP: if you would like to add a label or some bag bling to the front of our bag, now is the time to do it!" I paused for thought. The only bling I had was a "Handmade" zipper pull from Janelle's Emmaline Bags collection, which I intend to add when it's finished. So I added this applique heart and button to the front....
and cut this label from the printed fabric and added to the back, as I didn't have a label of my own but I liked the idea. I must treat myself to some of Janelle's shiny metal "Handmade" bag labels next, especially as no-one thinks they are handmade any more.
It all went together very well, in fact I enjoyed making it. I hope when I get out and about with it I will get requests for a couple more! The most time consuming job, as always for me, was choosing fabrics. Here's the front pocket open to show the snazzy flap lining and twist lock.
Here it is from the back, with my "signature" clear vinyl pocket! I use my vinyl doubled over, so there is a fold across the top. The binding is purely decorative. As Christine suggested I used two rivets on each of the straps. I must say I prefer attaching rivets to stitching a box!
The side of the bag showing the side strap complete with the buckle (from Bag Clasps UK) rivets, and zipper tab. My zipper was actually 22" long rather than 19" and I didn't trim it much. I find it much safer to use a longer one as it can be cut to length, but if it comes out too short... it's seems a long wait to get another one!
I also chose to add bag feet, and used this extra thick plastic template for my bag base, using the same method as for the Stow-it-All to put it together.
My only "notes to self" for when I make another one, is that I need to take more care with;
a) the lining i.e. matching any pattern at the centre bottom seam and
b) the positioning of the pockets.
My single slip pocket (under the zipped pocket) is closer to the bottom seam than my layered slip pockets by about an inch, made more obvious by the ribbon. Of course if the lining had matched up, and I hadn't added the ribbon, it probably wouldn't have noticed at all! I'll know to check it next time.
Here I am modelling it, to give you some idea of scale! I loved making this bag, and actually found it easier than the Stow-it-All because it's a bit smaller, and has a gentle curve onto the gusset instead of boxed corners. It has so many pockets I have found a place for everything.
It's great, I love it, and I am proud of myself for making it and grateful to Christine for her great design and instructions, so I awarded myself a Diploma!
The My City Slicker - Advanced