I like reading the garment sewers blogs and looking at the indie patterns. When I found myself repeatedly going back and looking at Pauline Alice's "Malvarosa Dress" I decided I should really try it. It is a loose fit dress, which means;
(a) less for me to fit
(b) it will be cool in the hot weather
(c) I will have plenty of time to make it before it gets hot!
I opted to buy the paper pattern as it is available in the U.K. from Backstitch and it arrived very quickly. I sat and read it all the way through, and looked at the size chart. It appears I need to make the size 42! That sounds enormous. Will I look like a sack of potatoes?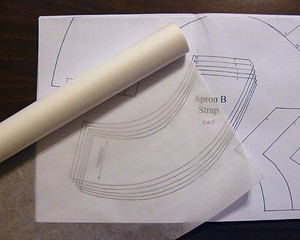 I traced the pattern pieces onto some Swedish tracing paper rather than cut the original. That way if it turned out to be miles too big I could still trace off a smaller size from the original (okay, I'm delusional - did I mention I have a size denial problem?)
I wanted to try everything out on a muslin and searched through my recycling hoard. I had a nice lilac check cotton, but not enough. I had a terracotta polycotton sheet, but not enough. I ended up using both and still had to make the back of the skirt out of two pieces. I was going to make version B with sleeves, but decided chickened out after my initial attempt at fitting them, and went for the sleeveless version instead.
Here I am cutting out, with my my new pincushion and my new Gingher shears (Christmas present!) The instructions are in a natty little booklet with diagrams, which was much easier to have on my sewing table than the big sheets from the commercial companies by the say. Clear and straightforward directions (in English, Spanish and French).
The result, in size 42. It seems to be the right size. Sigh. Not sure about the pockets. I mean, I love having pockets, and when my hands are in them they look fine, I'm not so sure I like the look when they are empty.
Back view. You can see my extra seam in the skirt. Bearing in mind how different these two fabrics are, they actually work quite well together. Such a shame I didn't have enough of either of them to make the whole dress. I think I would have liked the lilac all over. Though called 'sleeveless' you can see Pauline has made a little integral cap on the top of the armhole. It gets interesting when you add the full sleeve to it. Which is why I made the sleeveless version. Cluck! Cluck!
Side view. Looks okay here, but the armholes are a little gappy. It does feel nice on. I will start looking for a fabric to make the proper dress now. I want something as nice as Pauline's version!
This is what I mean by 'gappy'. I used Vilene H250 interfacing (non-woven fusible) as it's what I had enough of, but I think it has made it a bit stiffer than was needed. So maybe I should use Vilene G700 instead as it will drape better (it's a woven fusible, similar to Pellon SF101). That said, it looks like my arms are approaching their 'display until' date anyway. Maybe I should have another attempt at fitting the sleeves? Time to shop for fabric!
MY NOTES
1. Serge all the raw edges. As I am lucky enough to have an overlocker/serger I used it to neaten all my raw edges. It was threaded up in red from my last project and I decided to leave it be - it would blend in on the skirt anyway! The serged edges also made gauging the 5/8" seam line easier, I just lined my foot up against it!
2. Stay stitch the neckline. I serged it and it may have been a mistake as I think I may have stretched it a bit? Getting the facing to fit was fiddly. So probably a good idea to stay-stitch rather than/or before overlocking.
3. Use the sleeve board. I found my sleeve board a help when it came to pressing the facing seam allowance towards the facing, before under-stitching. I didn't screw the garment up so much!
4. Use pinking shears to trim and clip facing seam allowances in one go.
5. Gathers - I did this the way Pauline said, with three rows of stitches within the seam allowance. This has the advantage of not having to remove any of the gathering stitches. However, the seam is stitched at the bottom of the gathers, so they are only held in place on one side and it was not very even.
Babydoll Dress
The way I was taught was to sew two rows of gathering stitches 1/8" either side of the seam line. Once gathered up and evenly distributed, you sew the seam between the rows. The gathering is held stable. Then you remove the bottom row of gathering stitches as it would show. It's how I did the babydoll dress gathers. I think I will do it that way next time as I am more comfortable with it.
6. Hand baste the neck facing.
I had a bit of a struggle with mine. As I said above, I may have stretched it using the serger. Anyway, I got it pinned with a lot of pins, so I decided to hand baste it and get rid of them. It actually went in perfectly.
7. Use woven fusible interfacing for the facings as the one I used was way too stiff.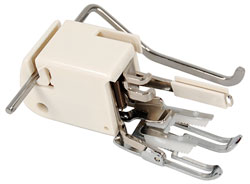 8. Fit Walking Foot. I keep my walking foot (Janome even-feed foot, closed toe) on at all times now, only changing it for special jobs such as fitting a zipper. It helps with everything. If you have been holding back from spending the money, don't, it's worth every penny!

Learn to Sew: Shift Dress