I remembered downloading this pattern for the "Love Ewe" cushion from Helen at Bustle & Sew, and thought I could make my own somewhat "earthier" version, using wool fabrics!
If sheep aren't your cup of tea, Helen has another couple of designs that might suit you better...this is her "Deerly Loved" design....
and this "Owls in Love", which is closer to what I have in mind for my flock of woolly sheep!
Or how about this? She has lots of other lovely idea in her store, you should check it out!
I downloaded this Love Ewe Applique (FreePattern.pdf) and spent a happy couple of hours picking fabrics out of my stash. I'm using the same tweed printed cotton for the cushion as I used for my Christmas Reindeer Cushion. A little addition to my version is adding a ramshorn to my central sheep, so I have more of a 'boy meets girl' scenario!
I'm using a fine black needlecord corduroy for their faces and feet, and some shirting for the hearts, rather than felt. Here it is, with all the pieces cut out and fused in place using Bondaweb/WonderUnder and ready to start sewing.
Next it's on with my embroidery/darning foot and down with my feed dogs. I used black thread in the top and cream in the bobbin. Once I fitted my first sheep into my embroidery hoop I was good to go. I only discovered the Madeira spring loaded hoop last year, and bought both sizes as they fit under the pressure foot easily, unlike my wooden ones!
Here are my lovebirds, all stitched on with wiggly freestyle machine lines. I did some extra lines on his horns, but you can't really see them. The only hand sewing on this project was their blushes! I'm hoping the edges will fray a little, and make them look even more like shaggy sheep!
Happy Valentine's!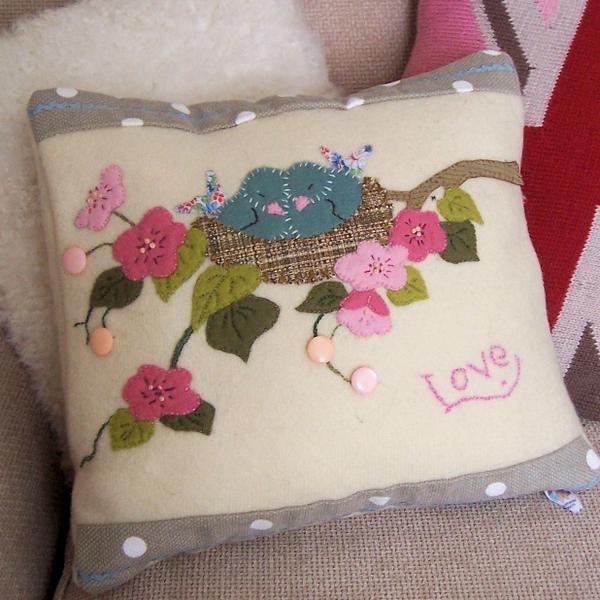 Newsflash - if you sign up for Helen's Newsletter, you get some extra free patterns, and this month she has included this cute vintage Lovebirds design !
UPDATE ~ UPDATE ~ UPDATE ~ UPDATE ~ UPDATE ~ UPDATE ~ UPDATE ~ UPDATE

I decided my "I love ewe" cushion was too dark, it was depressing. I liked my tweed sheep, but not on that background. So I decided to change it.
Same sheep, new pastures!
Rather than attempt unpicking, I carefully cut round each one, then used temporary spray adhesive to position them on a new background, and stitched them in place.
This time I used grey thread rather than black, so it showed up on the faces and feet. The background I've used is a remnant from my first Stow it All bag, a curtain fabric called 'Rosebud' in sage, from Clarke & Clarke. So you could say everything is 'coming up roses' for these young lovers!
The other one was depressing me, I'm much happier with this version, it's so much prettier and lighter. I'm glad I made the effort and changed it. Now Spring is in the air!
---