Watch a video tutorial of how easy it is to cut fabric using your CRICUT or CRICUT EXPRESSION. Tutorial by Emilie Ahern of THE SCRAP REVIEW.

---
Cricut Shapes Cartridge Life is a Beach
From Provo Craft, every day is a day at the beach with this sunny cartridge! This cartridge includes: Layers, Title Words, Border, Photo Card, Square Card, and Charm creative features. Cricut cartridges were designed for the Cricut machine; Cricut Create machine and the Cricut Expression machine (all machine available separately). This cartridge contains 100 Basic shapes and six creative features for each one. This package contains one cartridge with the size capabilities of 1" to 5 1/2" (Cricut); 1/4" to 11 1/2" (Cricut Create) and 1/4" to 23 1/2" (Cricut Expression); one keyboard overlay; one instruction booklet and a storage box: 7 1/2" X 4 1/2".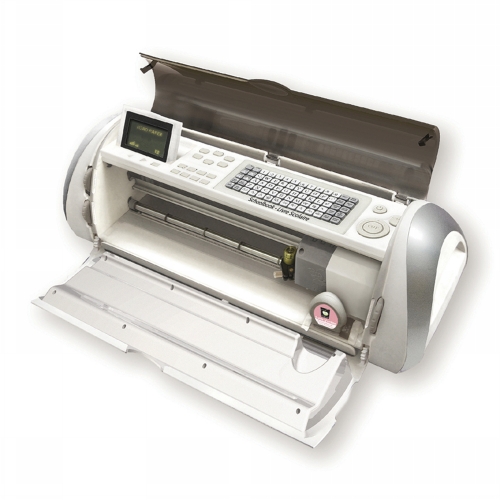 Provo Craft 290300 Cricut Expression Electronic Cutter

Features include:
6 New Timesaving Modes
4 New Creative Functions
New 8 Way Navigation of Cutting Blade (Located around the Cut Button allowing you to easily reposition cutting blade where you want; and see location in reference of the mat)
Larger Full Featured LCD Display
Heavy Duty Construction
4 Languages and a Metric Option.

Package contains:
Cricut Expression 24" Personal Electronic Cutter (approx. 13 lbs);
Plantin SchoolBook Complete Font Cartridge;
Accent Essentials Shape Sampler Cartridge;
2 Keypad Overlays;
2 Cartridge Handbooks;
12x12in Cutting Mat included (12x24in available separately);
Power Cord (UL list: E155176);
Power Adapter (UL list: E215890);
Cutting Blade Assembly;
Quick Start Guide; Manual and CD.

Uses All Existing Cricut Cartridges. No Computer Required. Cricut Limited Warranty (included within each box).