I bought two new pdf handbag patterns:
The Zerba Bag - a cute and trendy 12" x 12" bag.
Easy zipper installation creates a very
functional bag with lots of pockets.
and
The Zip and Go from Erin Erickson
I was thinking of making something funky for my great nieces, maybe from recycled denim. I have some pinstriped denim I would like to use. Then what do I do but buy another one! I remembered this one from Sue Kim at ithinksew, but I bought it from her Etsy shop as I couldn't see it on her website. I think it's partly the magic of downloading, instant gratification - I'm certainly hooked!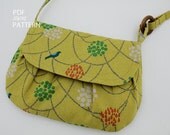 I decided I will make it up in wool from a plaid skirt my MIL gave me, with a cotton print lining.

I want to make it 25% bigger so I can fit a zipped pocket and a slip pocket with a flap and velcro closure to hold my mobile.

I want to have a tab and ring on both sides, not just one

I also want to add iron on fleece to the lining to make it more plush and use the woven interfacing on the exterior
It's not just me is it? I am not the only one who just has to do it differently? My real puzzle is why I am making another winter weight bag when I already have one. I guess I just want to see it made up in the wool plaid, I know it will look great!
Here are the pieces all cut out with the interfacing applied
Which brings me to pdf patterns in general. How do you do yours?
I print the main bag picture on glossy photo paper

My printer will print both sides of a sheet (duplex printing) which saves paper on the instructions

I glue the pattern pieces to card (usually cereal packets) to make them more durable

I put the pages and pattern pieces in clear punched pockets and connect them with Treasury Tags
They stand in the front of my pattern drawer. They could go in a ring binder but I have no more room for one!
OR
I plonk my laptop on the table and just work from the screen and don't print it off at all! What about you?