"I love my Campervan Bag, now can you make me a backpack?"
I replied "I don't know, I've never tried sewing a backpack, but I will look for a pattern!" Here are the backpack sewing patterns I found for her to choose from;
1. The "Amy Backpack" from Chris W Designs, very pretty, and only rated "Basic".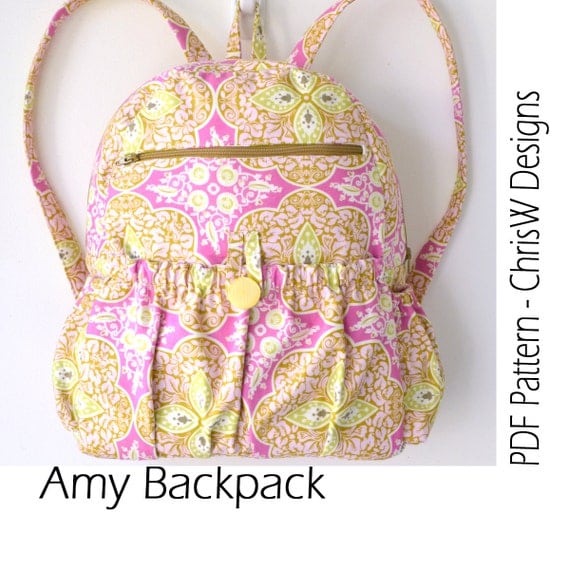 2. The "Dawn to Dusk", also from Chris W Designs, but rated "Advanced" which is a little scary! Both sewing patterns are available as instant pdf downloads.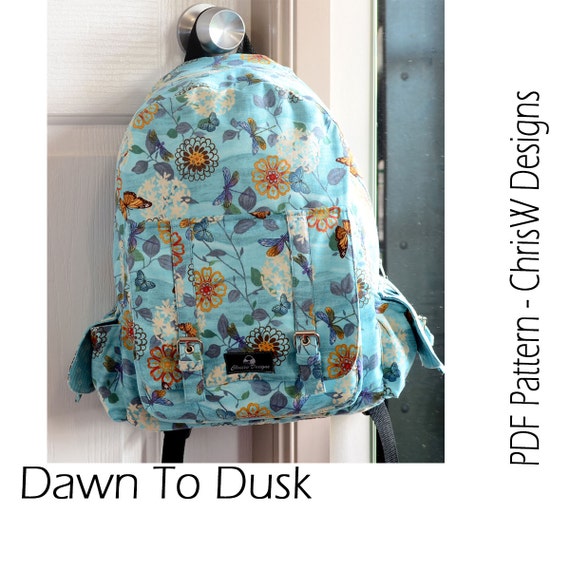 3. From the catalogs I found McCalls M6410 with two styles, and readily available locally or online. I like to use Sew Direct because they are fast, discounted, and come in a nice plastic storage bag!
McCalls pattern #6410
4. I thought this backpack pattern from ByAnnie.com not only looked good but would work well with her "Soft and Stable", but it is a paper pattern and we would have to wait for it to come from the USA as they are not stocked over here in the UK.
5. From Etsy I found this one by Onigiri Designs, available as a PDF pattern which I like the look of too. This backpack pattern comes in three sizes and is fully lined.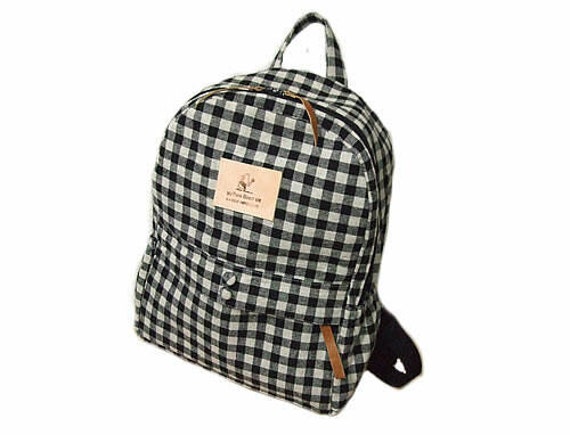 That was enough choice! I sent the details on to my young client, and she chose (roll of drums)....
- the McCalls pattern, view D, with the large zipped pocket on the back. I told her to look for fabric while I ordered the pattern, and she found this curtain fabric....
"First Class" by Prestigious Fabrics, in Mulberry
When the pattern arrived I ordered the fabric (from e-bay) and the zips (from Jaycotts) then read the interfacing requirements; hair canvas and fusible fleece. I've got fusible fleece, but what on earth was hair canvas?
Pure Wool and Hair Canvas
I searched and found out it was a woven interfacing made using animal hair (hence the name) traditionally used in tailoring, now also used in bag making. Well, now I had learned something new! I actually found several suppliers here in the U.K. I tried MacCulloch & Wallis who had several versions to choose from, and when I asked about one of them they said they didn't think it would be suitable. So I asked for samples. After three weeks I was tired of waiting and was told that they were "very busy". So I asked for guidance from McCalls themselves. They said they had met a 'lightweight' hair canvas so any would do. Then I spotted this bargain on e-bay!
So now I had assembled all the materials, I could start work. There were quite a few pattern pieces, so the preparation took me a while as I had to;-
Cut 10 pieces from the exterior fabric

Cut 8 pieces from the hair canvas

Cut 8 pieces from the lining fabric (I'm using sheeting)

Cut 4 pieces from the fusible fleece
Fuse the fleece to the lining pieces

Sew the hair canvas to the exterior pieces

Transfer all the markings from the pattern pieces
Sewing started the next day. I tried to be good and follow the instructions, but I didn't like the idea of "trimming raw edges close to stitching" for attaching the pocket flap, and chose to enclose them. So then I had to re-locate the velcro on the front pocket. No big deal.
My only real complaint so far is that I could do with a magnifying glass to see the diagrams properly!
I made the front zipped pocket with it's front pocket and flap. Much to my surprise the gussets went in without me creating lots of accidental pleats, probably because I am using my walking foot! Never had such a thing when I was young, which is why I have avoided gussets for so many years. I took the extra step of topstitching the gusset. When it is edgestitched to the bag the gusset stitching will match.
Here you can see the hair canvas. It's actually rather nice to handle. The lining was made in the same way, but I did have to unpick a couple of accidental pleats in that! Only two, and they were only small, it is only sheeting after all (excuses, excuses!). I attached the lining and got to the instruction "sew the folded edges of the lining to the zipper" and stopped. They don't say slip stitch it, but if you machine sew it you would have another line of stitches on the zipper.
It appears I should have stitched much closer to the zipper than I did, as when I tried to slip stitch it my stitches showed on the the zipper tape. I decided the best thing was to re-press the edges narrower, tapering at the ends. It worked as you can see above, but I added a note to the instructions for next time.
The next step was to attach the zipped pocket to the bag front. I used my zipper foot and it went on well, although my sewing machine did moan at the seams. They were all pressed to the gusset side so it was fairly bulky, but there were no skipped stitches. The pattern is getting a big eye boggling now!
I made the straps and loop and basted them in position. I started on the gusset and zipper and hit a problem. My 22" zipper is only 20" long. Even if I measured the tape it is only 21" long. I checked my order with Jaycotts, and it definitely was for a 22" zipper. I guess I could fudge it, but this is for someone else and it's my first attempt at a backpack. Losing two inches on the opening would be really bad mojo! I contacted Jaycotts and they are posting a replacement Monday. Why couldn't it have been longer rather than shorter!
So I carried on with the next job, assembling the lining gusset. I decided to serge the seams as the sheeting is prone to shredded edges. Next was the pocket, and I decided I didn't like the idea of an unlined one!
Only my second deviation (if you don't count my extra top stitching). The two pleats make it interesting, and you can see it here, still a little damp from spraying to remove the water soluble marker pen.
"Open Wide!"
So I carried on and assembled the lining, ready to slip inside the finished bag. If the outer goes together as well as the lining did I shall be very happy! I pinned then hand basted it together because a) I hate pins and b) they make it lumpy!
That stay stitching they told me to do gave me a good line to follow, and those notches they said to make fitted the corners perfectly! The only change I made was to add centre lines on the top and bottom of the main pieces to help with matching up the gusset.
Here it is inside out, all done. Nothing else I can do until the zipper arrives! Although I could add a zipped pocket to the other side of the lining? By chance I have a zipper in the right colour, so I think I will, as I have time.
Oh, I did glance at my bookshelf today and realise I could have offered to make 'The 3-in-1 Convertible Backpack' from Lisa Lam's "A bag for all reasons", but I think she had enough choice
>>>>>>>>>>
So the zipper has arrived, and I got on with putting it in. To get a more precise edge I drew the seam line with a water soluble pen, basted along it then removed the pen line and pressed the edge on the basting. It gave a good straight edge. I used my zipper foot but also put a ribbon through the zipper pull to make it easier to pull it past the pressure foot and out of the way.
I am very happy with that! This bag looks good on the other side too. Yes I know my overlocking / serging is green, but it will be hidden, and I couldn't be bothered to change it!
I decided to top stitch the gusset of the main bag, the same as I had for the front pocket.
I have to say I am disappointed that the backpack is floppy and limp. I don't know how much adding the lining will improve it, or whether I should try adding some more interfacing now.
I made up a pad with plastic canvas and wadding sandwiched inside some more lining fabric. I can sew the seam allowance to the bag back seam allowance.
Here's the pad, ready to go in. Really wish I'd used some fusible Vilene like Flexi Firm (S320) and not bothered to try the hair canvas now!
Made a bag bottom to insert inside the lining. Used this plastic corrugated product I bought in my local Patchwork & Quilting Shop, called Corex.
Now I'm happy. With the extra support the bag can stand up by itself.
Back to the instructions. Fit the lining inside the bag, sew the folded edges to the zipper tape. I slip stitched it by hand. How I hate pins!
The lining is fitted, and here you can see the extra zipped pocket and the bag bottom I added.
Finally, it's finished. Will have to wait for tomorrow to take a decent picture in daylight. It was still daylight when I finished it the first time. That was when I realised I had put the canvas pad in back to front, with the wadding on the inside. So I went off and cooked dinner to calm down. I have just unpicked all my hand stitching and removed the pad, turned it round, stitched in back in place, then hand sewed the lining again......
>>>>>>>>>>>>>>>>>>>>>>>>>>
So this morning I tried it on. I'm more or a shoulder bag girl to be honest, but it was obvious the bag bottom had to go, it was uncomfortable against my back. Otherwise it seems fine.
So now I can say "Yes, I can make you a backpack,
(but please don't ask for another one anytime soon)."
---
---