By Joanne Jones Experienced sewers make it look so easy - the fabric they are sewing just seems to flow through their machine with little guidance from them. But even experienced sewers had to start somewhere. They either taught themselves or had someone show them how to sew. Everyone has their own little tips that helped them along the way and I'm no exception. Here are some of the tips I learned that I would like to pass along to you. These tips will help you to find ways to make sewing easier, keep your machine in good working order, tips for
beginners
who are just starting to learn how to sew and more. Ensure you have
good lighting
wherever you are working. This will prevent eyestrain, plus allow you to easily see what you are working on. You will be able to work faster if you can see what you are doing, for example to follow the lines on your pattern, to see what side of the fabric you are working with, to be able to thread your machine and all the other tasks you need to do while sewing. Have
a room or space
that you enjoy working in so that you will use it and will want to work on your sewing. If the room itself stresses you out, then you won't spend time in it and you won't get much sewing done. Keep your
sewing room
stress free by keeping it
organized
, tidy and inspiring.
Take
sewing lessons
that will show you how to do things properly. Sewing is best learned by actually doing it. Before signing up for any classes, check to see what will be taught in the class and ask what skill level it is geared towards. If you can, talk to the teacher (to see if you are comfortable being around the person) or other people who have taken the class (to hear what their experience in the class was like). To help learn the basics and become comfortable with sewing, beginner sewers should start with
small, simple projects
. As their comfort level increases, they can take on more challenging projects and learn new skills. Once you have bought your
sewing machine
, make sure to read the manual that comes with it. While the basics are the same, all
machine
s are slightly different. Learn what your machine can do and how it does it. Try out the different types of stitches
the machine
can do on a scrap piece of material, so that you will know how to do the stitch and what it will look like. That way, when you start a project you will have the confidence that you do it. Take
proper care of your sewing machine
. Not only will this prevent damage to the machine, but it will also last longer. Remember to regularly oil the machine to prevent rust and prevent wear on the internal parts. Remove lint frequently to prevent unnecessary wear and tear on the machine. Finally, consult your manual because it will tell you when and how to properly maintain your machine. Read all the instructions on a pattern before starting. The pattern will give you
step-by-step direction
s that must be completed in order. There is a reason for this order and if you miss a step, your finished project won't turn out the way it should. Always use
good quality thread
. Cheap thread tends to leave more lint behind and it breaks easily. Not only will you have to spend time dealing with the thread breakage, but you'll also have to spend more time cleaning your machine or risk having it break down more often than it should. I hope you have found these tips useful. Please visit
Beautiful Creations
to see different lighting systems and quality supplies that are available to you. Remember, good quality supplies are easier to sew with and will help to keep your sewing machine problem free. While you are there, check out our Project Ideas page for
FREE Sewing Projects
that have complete instructions and pictures for each project.
---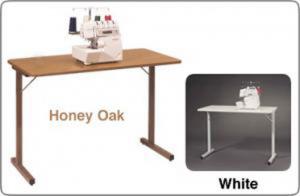 Roberts 295 Honey Oak Folding Deluxe Utility Table Stand 40 x 20" Inches for Sewing, Embroidery, Serger and Knitting Machines
The Deluxe Utility Folding Table is an ideal choice for those with limited space or if you need a table to fold up and take on the go with you. It provides a sturdy yet very portable work area with positive locking legs for added stability. Dimension 40" wide by 19.75" deep by 28.5" high. Light Weight but Sturdy, Weighs approximately 30 Lbs. Foldable locking leg System for easy storage. Provides a flat and smooth surface. The perfect height for use as a portable desk, sewing table, drawing board, work-bench, computer desk, and much more!.