by
JoAnn Connolly
If you're in the market for a sewing machine, you already know that the selection is huge and that picking the right one can be a bit overwhelming. Ask a hundred sewers which machine you should buy and you'll get a hundred different answers. So, step back, take a breath and read on to make the process simpler.
Believe it or not, all the machines you're looking at are more alike than they are different. At the consumer level, and aside from sergers, the machines you are looking at are lock-stitch machines. They form a stitch with two threads – the spool thread on top and the bobbin thread on the bottom. They all have a thread delivery system that includes a spool pin to hold the thread, some thread guides to get the thread where it needs to go, a tensioning device to assure that the thread flows smoothly and consistently, and a needle to bring the thread through the fabric to form the stitch. They all use a thread-filled bobbin to deliver the bottom thread to the underside of the fabric. The two threads "lock" in the middle to sew your fabric together... [
read on!
]
Visit JoAnn's embroidery site!
Go to Picking the right sewing machine - Part 2
---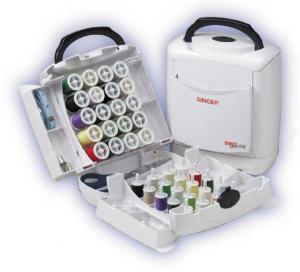 Singer HC-22 Sewing Essentials Home Chest HC22 with 40 Threads, plus Notions: Thread, Thimbles, Needles, Scissors, Tape, Etc.
Lightweight. Comes complete with sewing notions. Notions organizer. 20 large size spools of thread. 20 medium size spools of thread. Full size scissors. 60" heavy duty vinyl measuring tape. Three metal thimbles. Five hand-sewing needles. Eight storage compartments.